UCM Service –
Your expectation is our mission
Every unscheduled outage or breakdown of your cleaning system(s) will cause major additional expenditure or even, in the worst case, a downstream production shutdown. It is therefore vital that your in-house cleaning operation be kept on track, delivering the specified cleaning results and maximum performance.
Our aim is to provide you with competent and reliable advice, both before and after your equipment purchase, and to assist you with expertise whenever you have a question regarding your UCM ultra-fine cleaning system – specifically if things do not run as smoothly as they should and you need help quickly. Our customer service team commands an extensive global network of resources you can rely upon at any time should an emergency or sudden issue arise.
So whether you wish to report an equipment malfunction, need a spare part, would like to boost your system's availability through advanced service solutions, or seek to upgrade existing equipment to new manufacturing requirements.
UCM's customer service team will be available with help and advice!
Intro Text
Consulting & Engineering for efficient component cleaning
Superior technology and performance as well as high consultancy and planning competence are the core values of UCM precision cleaning technology that make the difference. We offer personal advice on the entire cleaning process and work with you to develop customized solutions that are adapted to suit your needs.

In addition, our worldwide technology centers offer a range of possibilities for running fine and precision cleaning trials with original parts simulating real production conditions. This is a significant advantage when selecting the appropriate system and process technology for component cleaning. Test results obtained in our centers are the most reliable approach for an optimal solution.

Take advantage of our experience in precision cleaning and our technology centers with suitable cleaning equipment for any cleaning task - worldwide. The result: an optimum cleaning process for component cleaning!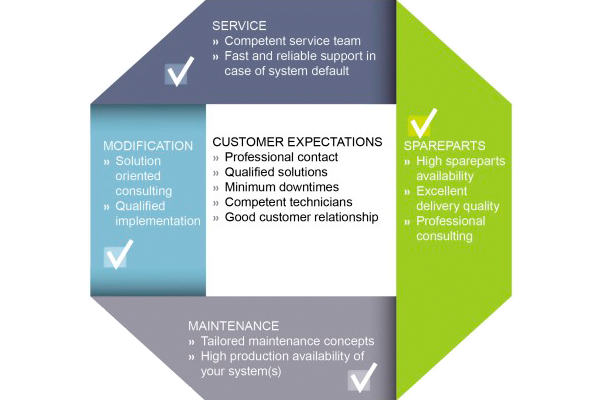 Engineering & Technical Consulting
Quick Online Or Telephone Assistance
If you should ever encounter operating problems relating to your cleaning system, our competent helpline will be glad to provide assistance and advice. Its staff members are your first port of call for any technical issues you may have. They provide initial troubleshooting support and can arrange for the dispatch of service technicians.

UCM's service helpline is available from 08:00 a.m. until 05:00 p.m. on weekdays. Outside this time window, you can use our online machine breakdown report to get in touch with us quickly and easily.
Your Benefits:
Quick information and help in the event of an equipment failure
40 to 60 % of all reported problems and malfunctions can be overcome directly on the phone by our technical support staff
Convenient scheduling of call-outs for UCM service technicians
Reliable and speedy processing of your online fault report
Fault Diagnosis
In your day-to-day operation of the equipment, our specialists can support you with their in-depth machinery and process expertise. UCM's remote diagnosis brings your system back up to its intended performance level, delivering a root-cause analysis virtually in real time. Acting in coordination with your own staff, our experts will log into your system to assess the situation.
UCM's online help service (subject to prior installation of the necessary hardware) will impress you with its convenience and ease of handling, providing the following:
Rapid cause analysis in the event of a failure
Optimal equipment availability
High cost-efficiency
Helpdesk
Fast. Simple. Ready To Run.
Your cleaning system should perform smoothly from the very beginning. This is why we maintain our own team of experts to take care of installation and commissioning. They will handle the on-site installation planning and precise coordination with your own staff regarding delivery times, space requirements, and auxiliary equipment needed to install your system.

To enable you to launch your new plant quickly and reliably, all UCM equipment is started up at our factory prior to shipment. To this end, all systems are filled with the selected cleaning fluid and subjected to thorough tests pending your acceptance on our premises. As a result, the commissioning time at your site will be reduced and your production can go back to normal sooner.

Installation and commissioning support will be provided by our own team of experts – to make your cleaning process perform smoothly from the word go.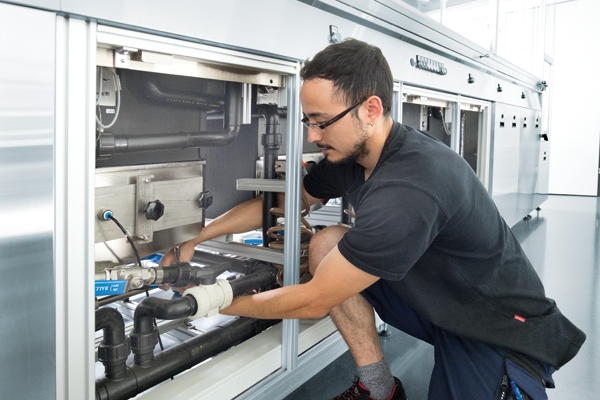 Machine installation
Fast And Reliable Spare Parts Supply – Worldwide
Like any other technical installation, your cleaning system may suffer some wear and tear of components over time. The supply of genuine spare and wear parts is assured by our experienced Spare Part Sales team. Parts in stock will be delivered to you within 24 hours, allowing you to relaunch production as soon as possible.
Ucm's Customer Service Provides The Following:
Advice in the selection of spare parts
Starter kits for new equipment
Customized spare part packages
Genuine spare and wear parts
Fast worldwide delivery
Spare parts covered by warranty
Our ambition is to ensure quick and timely delivery!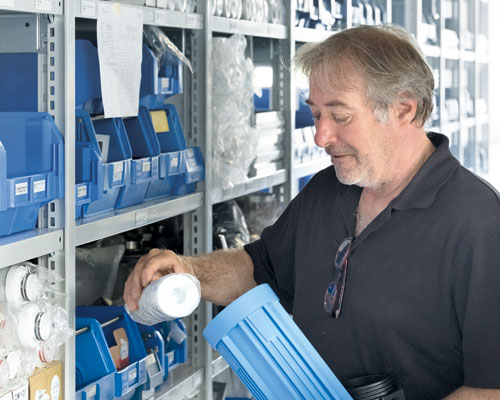 Spare Parts
Scheduled Availability
Periodic maintenance of your system is essential to achieving constant optimum productivity. As a manufacturer of innovative cleaning equipment, UCM attaches particularly importance to customer care including after-sales support.

To keep your equipment up and running under optimum conditions at all times, thereby ensuring that your high cleaning standards will be met, we offer extensive periodic service agreements and specific maintenance packages. You will thus safeguard your equipment's performance while protecting its value.

There is no best time for equipment failures, but for inspections and maintenance there certainly is. UCM's service team keeps an eye on maintenance schedules and makes appointments with you in good time. A periodic service agreement tailored to suit your specific needs forms the basis for regular maintenance support at calculable costs.

Strategic maintenance planning enables you to prevent equipment failures and downtimes in the long term. To accommodate your individual plant maintenance needs we offer diverse inspection and maintenance levels aligned with your requirements. Moreover, we will help you plan maintenance activities, keep track of due dates, and introduce maintenance plans to optimize plant availability.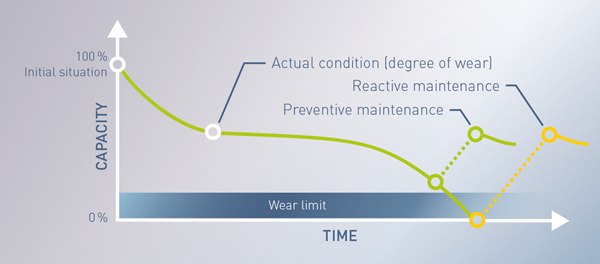 Inspection & Maintenance
Keeping Pace With Technical Progress
The demands placed on your cleaning system may change rapidly. Technical advances may impose a need for higher cost efficiencies, increased equipment throughput or new levels of part cleanliness, thus calling for modifications in your cleaning process.

In this situation, it will not always be necessary to go for an altogether new cleaning machine. Our revamping and modification team can provide expert advice on available upgrade options for existing equipment, enabling you to boost your system's capacity while cutting costs. And in doing so, we will naturally keep our eyes firmly on your new parameters and targets.
We Offer:
Quantity improvements through
Upgrades and modifications
Cleaning quality optimization
Equipment upgrades to new technology
Expansion of your machine and conveyor system
Custom solutions of any description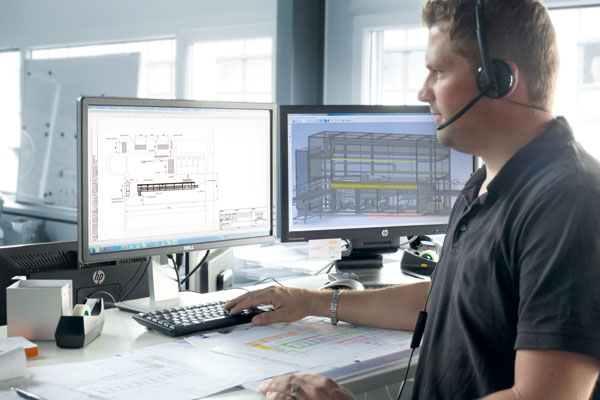 Modification